Writing an introduction is a vital and essential part of any paper. It is the first thing your reader is going to see. It is the first contact with your reader. It sets the tone and the style of what the reader will be reading. You want to make sure it is conveying the right message, and is both clear and concise.
A good introduction should have a hook, some background detail on the topic, and a thesis statement at the end.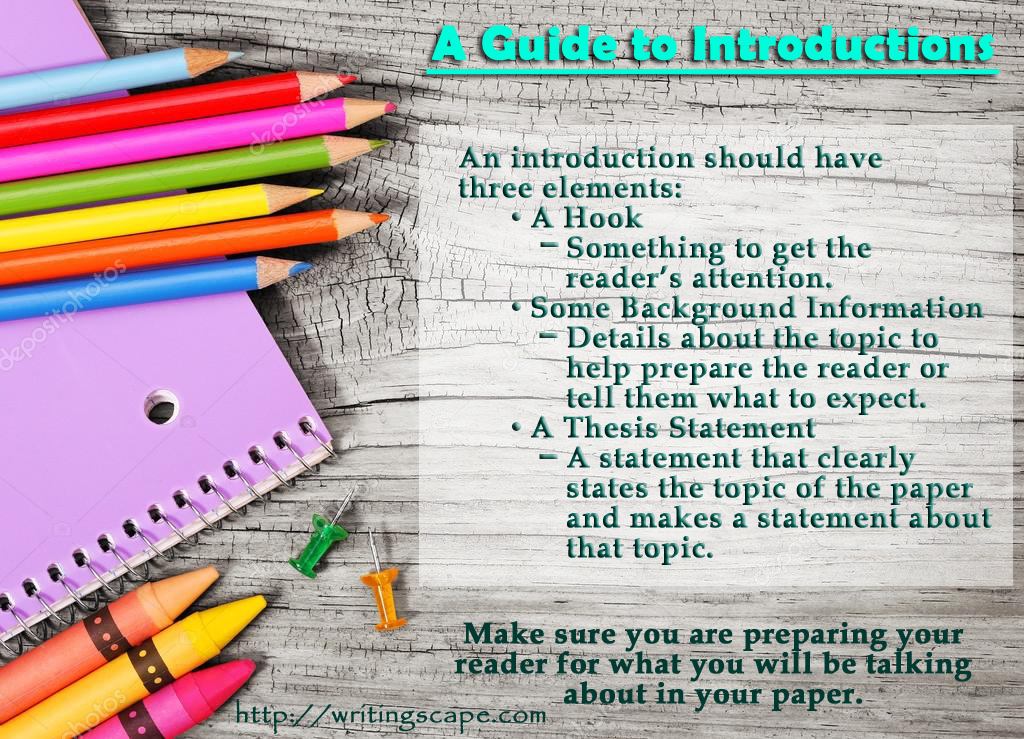 Your hook is going to get your reader's attention. There are many ways you can "hook" your reader, such as:
A quotation
An anecdote or story
A question
A strong opinion
A general subject
A surprising fact, statistic, or definition
A dramatic example
An interesting comparison
A vivid description
Once you have hooked your reader into your paper, you want to make sure you give them some essential background information. Don't get too technical! Focus on just the important aspects of the topic, enough to get your reader interested. It is important to make sure that you include enough background information in your introduction so that people can understand your topic. Because you are familiar with your topic, sometimes it's hard to see it from the perspective of someone who doesn't know much about it. For this reason it can be helpful to have someone else read over your paper with fresh eyes.
Things you might need to provide background information about:
Acronyms. If you are using initials to refer to organizations, special bills, etc…do you think your audience will understand? It's good to state the entire name at least once.
Complicated laws or procedures
Your sources…this doesn't belong in your introduction, but it's always helpful to say a little bit about what makes a source trustworthy
Lastly, you want your thesis statement. The thesis statement needs to be a single, declarative, complete sentence that states your topic and position on it (without the use of informal language, or first and second person language). It should not be longer than 25 words in length.
As The Writing Center at Michigan State University shares in their article, "How to Write a Good Introduction," there are specific things you want your introduction to do for your reader. You want it to be "broad," but not too broad. You want it to prevent background information, but not make your argument. It should present a thesis and only helpful, relevant information – it shouldn't wander too far off topic.
Your introduction should include the following information in this order.
A hook
Background information
A thesis
Introduction Checklist
A checklist like this may be very helpful to you as you work on revising your introductions in your writing.
Does the introduction hook the reader? If so, which method does it use?

Does it include something they don't already know, such as a revealing fact, statistic, or definition?
Does it tell a story?
Does it ask a question?
Does it include an interesting comparison?
Does it use a quotation?

Does the introduction let the reader know what the essay is about?
Does the content relate directly to the thesis statement?
Does the introduction provide the necessary background for the essay?
Here is a great resource on writing introductions: Introduction Strategies by Excelsior OWL
Reference
Excelsior OWL. (n.d.). Introduction Strategies. Retrieved from https://owl.excelsior.edu/writing-process/introductions-and-conclusions/introductions-strategies/
Maynar, C. (2014). How to Write a Good Instroduction. Michigan State University. Retrieved from https://writing.msu.edu/how-to-write-a-good-introduction/